This past May I attended my annual conference for National Association of Professional Organizers, better known as NAPO,  in beautiful downtown Atlanta, Georgia.
This newsletter is my show-n-tell of the new items showcased at our vendor expo hall this year.
First one of my favorites, the Lock and Rollin.  It is an amazing way to turn unused attic space into usable, clean space without the hassle of measuring, cutting a lugging heavy plywood up small attic stairs.  It is awesome.  But, don't turn your attic into a junk storage space with it, create usable storage for things you still want and love but don't have room in the main part of your home to store.  Check it out here. and watch the video     http://tinyurl.com/zhgjocp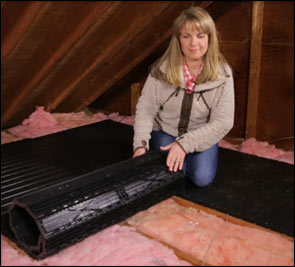 The runner up product was the UpperSlide.  It is a pullout drawer for your upper cabinets.  I used to sell ShelfGenie pullout drawers for kitchen cabinets but those were only designed for the lower cabinets.  The UpperSlide fills the gap.  Take a look at their video.     http://tinyurl.com/zhgjocp
Please tell me what you think of these new products in the comments below. Could you use these products in your home or know someone who could.  Share this newsletter with them.